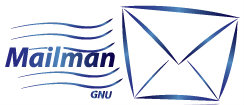 We are happy to introduce another benefit for Star Donor charities . . . a FREE Mailman mailing list. That's a $9.95 value!
Mailman is software for managing electronic mail discussion and e-newsletter lists. Mailman is integrated with the web, making it easy for subscribed users to manage their accounts and for list owners to administer their lists, and many more features. This service is generously provided by Aplonis Web Hosting Solutions.
Mailman is easy to use. You compose your email newsletter in your favorite email program, such as Outlook and send it to your list address. Your newsletter is then distributed to all of your subscribers. You have full control over how simple or complex your newsletter design is. You can send email newsletters from any computer with Internet access.
To get your free Mailman list and start generating more donations for your nonprofit organization, contact your account representative today.
Comments regarding this Addon:
"I never thought that sending out a newsletter once a month would generate so much interest in our charity. Thank you, Star Donor! And thank you for the great customer service."
"At first I was intimidated by having a mailing list and what to actually do with it. Now it's like I don't know what to do without it."